SINNESRAUSCH / SENSORY SENSATION – The Exhibition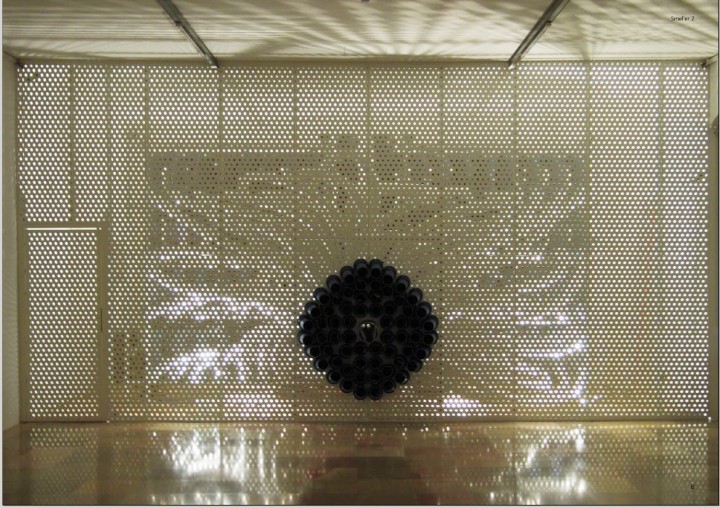 The development of 'Smeller 2.0' was hosted and cofunded by the OK Lab Project for the exhibition 'Sensory Sensation' (Sinnesrausch), which is taking place from June 14th until September 20th 2012 in Linz, Austria.
The exhibition was one of the state's cultural highlights of 2012, with an impact reaching far beyond the borders of Austria. As the first comprehensive project in the Upper Austrian Culture Quarter, the exhibition 'Sensory Sensation' represents the next installment in a successful series of large-scale shows. The series began with 'Höhenrausch 1' (Thrill of the Heights 1) during 'Linz '09 European Capital of Culture', and was followed in 2011 by 'Höhenrausch 2' (Thrill of the Heights 2), each attended by more than 200.000 visitors.
The exhibition 'Sensory Sensation' took advantage of a labyrinth of passageways, footbridges and overhead walkways between the rooms, halls, auditoriums and rooftop landscapes at various levels in the city of Linz, Austria. The exhibition trail led through listed historic buildings and cutting-edge architecture, all under one roof.
At 'Sensory Sensation', a total of 47 national and international artists presented installations, interactive artworks, instruments and objects revolving around the theme of perception.
A series of four lab projects, developed in conjunction with the artists and produced on site, formed the contribution of the OK Lab to the 'Sensory Sensation' exhibition 2012 in the Cultural Quarter.
'Smeller 2.0' was implemented as one of the attractions of this major event, standing for the sense of smell. In the so-called 'studio gallery', a 20 x 7 meter room with a floor of Solnhofen limestone, the Olfactorium was the sole feature within the exhibition, presenting a room devoted purely to the adventure of smell, with scent orchestrations provided by the majestic and amazing instrument 'Smeller 2.0'.
OK Lab / Artists in Residence
Wolfgang Georgsdorf (AT), Helga Griffiths (DE/US), Folke Köbberling & Martin Kaltwasser (DE/US), David Moises (AT) and Julian Palacz (AT)
SINNESRAUSCH / SENSORY SENSATION
 exhibition
open: June 14 – September 20, 2012
location: OÖ Kulturquartier, OK Platz 1, A-4020 Linz, Austria
---